6 reasons to apply project management in research [and succeed]
Are you also in such a situation?
I am constantly stressed about getting behind, fearing failure or producing poor research results.
This project is not progressing because of so many conflicts!
I don't have enough budget for my own projects, and I have no time to write new proposals!
I have no idea why this project started, and what should be the outcome.
We have no idea what's going on in this project! Is someone really working on it?
I am near burnout, having too many different responsibilities and not getting administrative support.
You can improve your situation!
Essential know-how rarely taught
Project management (PM) is a quite new discipline whose importance is increasing in our competitive world. However, even if such fundamental skills enable researchers to improve their performance, very few researchers have had the opportunity to follow a dedicated course in project management, neither during their studies nor during their career.
In such a case, the consequences might be quite important for all people involved and affected:
the junior researchers are facing challenges they can't solve.
the senior researchers may be equally overwhelmed and unsure of how to act. In addition, they cannot support and teach young researchers in this aspect.
the potential beneficiaries (population, economy, society, company, country, etc.) of the project get low-quality and/or partial results.
the organizations funding the research projects don't get as much as expected. Such organizations are often national/international funding agencies, private companies, or foundations.
The PM-Cube ©
We developed the PM-Cube in order to enable you to successfully manage the complexity of your projects and to deliver high-quality results.
It can be applied for any kind of professional and private project and allows you to:
– plan your work while maintaining flexibility
– write convincing research proposals
– lead performing teams
– communicate effectively
– find innovative solutions
– control projects
– work in a more relaxed manner
More under
17 reasons to apply the PM-Cube
5 tips to improve your training in academia

A simplified version for smaller research projects has been established: 
7 astuces pour facilement réussir son travail de maturité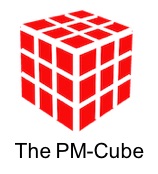 The best moment to learn PM: right now!
It is NEVER TOO LATE to increase your skills in order to improve the success of your current projects and to start new ones under the best conditions.
According to a European survey [1], senior researchers regretted not having received training in PM early in their career. Studies in the private sector support the fact that such expertise is crucial for successful organizations [2,3].
Practice to master PM
Managing a project requires many different skills. Therefore, you need to apply the different methods several times in order to become faster and more confident.
95% of the Postdocs participating in our workshops reported having applied the PM-Cube in the subsequent weeks; the majority of them observed an immediate medium-to-large impact on their projects.
A project is unique… therefore risky!
The particularity of projects is the fact that their realization is unique. It means that for the first time, some people will try to reach something specific, or they will try to reach it by performing differently. For example, you are trying to develop a new product, to understand the role of a specific parameter, to develop a better theory, or to perform a new experiment.
The uniqueness of projects, with their limited time frame and resources, implies that their realization is risky. This is the reason why researchers will greatly increase their chances of success by carefully managing them!
How to be successful
In order to guarantee the successful outcome of your undertakings, it is crucial to consider all its aspects, similar to the faces of a cube. Or you might face challenges in not having enough time, enough money, qualified team members, or the right infrastructure. In addition, the working environment might prevent you and your team to perform well because of a lack of leadership and support, bad communication, unclear roles and responsibilities, conflicts, etc. Failure might also just occur because of an incomplete risk assessment.
Therefore, researchers have first to reduce the complexity of their projects by first considering the entire research process which contains 3 main stages.
In addition, researchers have to plan their project in an agile way (in contrast to traditional PM) in order to maintain the necessary flexibility that is required in research.
In summary, the main purpose of managing a project is to reach its objectives in order to satisfy the sponsors. However, it is crucial to emphasize that the outcome might be different than the one presented in the research proposal!
Well-managed projects create winning teams
All persons participating in a project benefit from good management. These can be divided into 3 groups:
1. The sponsors funding the project: for them, a well-managed project means a higher return on investment since disasters are more likely to be avoided and the performance of the team increases.
2. The project managers (sometimes called project coordinators, officers, etc): they are the main persons managing the project. The application of the PM-Cube gives them the best possible overview of their project, enabling them to "steer" and guide it as desired. They are able to structure and plan the research work in the most appropriate way, they can make sure that the best decisions for the project are made and assure that the team stays focused. Therefore, the team will perform better and interesting results will be published more rapidly.
3. The team members: they greatly benefit from a well-managed project since they will work in a healthy and motivating environment. Clear communication about their roles and responsibilities will clarify their positions and decrease the number of potential conflicts. Appropriate and realistic scheduling will motivate the team and ensure their best performance. Finally, the project plan will allow all members to visualize the progress of the project and therefore better understand its status.
In research, it is not uncommon to play several roles: for example, you may act as a project manager, but also as a team member.
An example
Research projects are unique explorations that require specific skills from their project managers. Similar to the preparation of a challenging ocean crossing by boat, research goals have to be developed first in order to define a strategic plan.
In a second stage, the project has to be presented to potential sponsors. It is only after successful acquisition of funding that experienced people can be recruited.
The realization of the project continues with the construction of the appropriate vessel and the training of the sailors. During the ocean crossing, the team will have to face storms and unexpected events before anchoring at their final destination. Therefore, excellent preparation and flexible management of the project are keys to successfully completing research projects.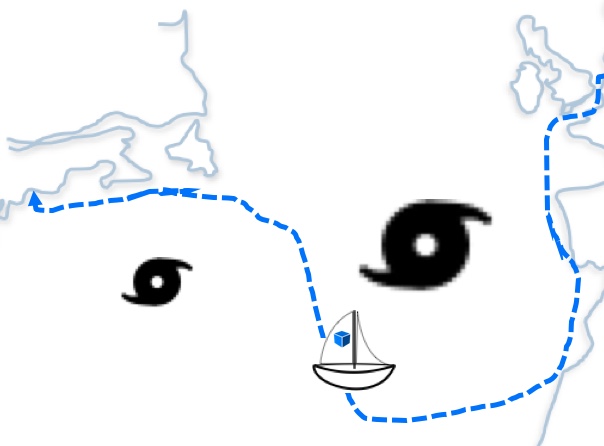 Application of the PM-Cube
The PM-Cube enables you to reach your research objectives more effectively by considering your project under complementary perspectives. Its dedicated methods allow you to not only write convincing research proposals, but also empower you to successfully lead your team and to adjust the course of your project if and when necessary.
The first four faces of the PM-Cube guide the preparation of your project in a step-by-step process. The methods of the WHY-side enable you to first comprehend the context of your project, which subsequently allows you to define your targets with the WHAT-side. At that point, you possess enough information to realistically plan your project, applying the methods of the HOW-side. Finally, the WHO-face focuses on the team members, defining their roles and planning a communication strategy.
Signing the contract marks the official start of your research project. In addition to re-evaluating the first four faces of the PM-Cube, you will consider the ACT-side enabling you to effectively communicate and lead your team. Finally, the remaining face of the PM-Cube, the OK?-side, will help you to control the course of your project.
Keeping your eyes open will allow you to adjust to the constant evolution of your project's context. Thus, you will be able to recognize interesting opportunities as well as pro-actively detect future challenges. The beauty in managing projects lies in the fact that you are continually faced with new situations; this is exactly what adventurers and researchers wish for!
Testimonials from training participants
I think the Project Management PM course is a must-do for people pursuing long-term objectives. No one can over-emphasize the importance of planning, but this class offers a comprehensive view of "how" at every stage of the project.
I recommend this PM course not only for research projects, but for projects in general in any aspect of life. In my case it helped also to decrease anxiety levels by being learning how to be more realistic with deadlines, etc.
I visited the PM course in the closing phase of my PhD studies and I enormously regretted not having done it before. It really helps to structure a long-term project. I am quite confident, though, that this knowledge will be of great use in future projects to come.
We bring you to the next level
Believing that a team is greater than the sum of its parts, Cubisma Ltd combines the strength and expertise of people having complementary backgrounds but similar visions. Our main fields of expertise are:
– research in academia and the private sector
– management of projects and programs in academia, in the private and governmental sector
– management of teams
– training and coaching in project management, life management, and organizational development
– each team member found her/his own company
– expertise in publishing
– international relocation
– family life
Training and coaching for individuals and organizations
Having as a mission to empower people and organizations to achieve their goals, we offer, besides our book and App, online and/or on-site training and coaching in project management, life management and related topics like quality management, communication, leadership, research proposals, supervisions, CV writing, etc.
We are working in all research fields and organization types.
Success in all your undertakings
Because professional and personal projects are unique, their realization requires an individual solution. The key to success is a minimally structured approach enabling you to remain highly flexible. And the added value is to be more relaxed!
Bibliography
[1] Transferable skills for life scientists, A report from a survey on the importance of complementary skills and skills training for senior and younger scientists in Europe, EMBO 2008 PDF
[2] Why do projects fail, study of GPM and PA Consulting 2007 Link
[3] CHAOS Report 2015, The Standish group 2015 PDF